Communication anyway!
The rapid evolution of information society and our accelerating world has put all forms of communication to front. Identifying the gap in the Hungarian radio communication market, in 1994 we set up our company, Fercom Communication Ltd. Thanks to the dynamic development we have become the leader of the wireless telecommunication market in Hungary.
hello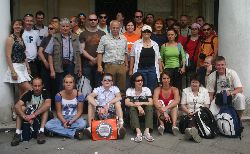 Our mission was to form a company, which provides such products and services to governmental organisations, such as police, fire brigades, ambulance, border guards, military, disaster management, national security services, that offers security and efficiency with the help of radio communication during their work.

We are in a unique position as we are the only suppliers of the largest two-way radio manufacturer, Motorola in Hungary. Motorola means a secure background to us with their experience, products and technical solutions, also requiring high standards from us that due to our commitment and continuous education and training we are competent to.
Our business is complex, covering all fields of radio communication. Our main profile is designing, implementing, operating and servicing two-way radio systems. Besides we provide two-way radio and accessory retail, wholesale, servicing and maintenance. Being foreseeing we are discovering new fields, such as military communication, GPS, camera applications and siren applications.
We have gained significant experience during the installation and operation of TETRA systems. In the middle of our attention there are always the customers and the consumers because only by the means of their satisfaction we can move forward. That's why establishing the ISO 9002 quality assurance system which is very important to us. We have also won the qualification of being the "qualified and authorised supplier for NATO".